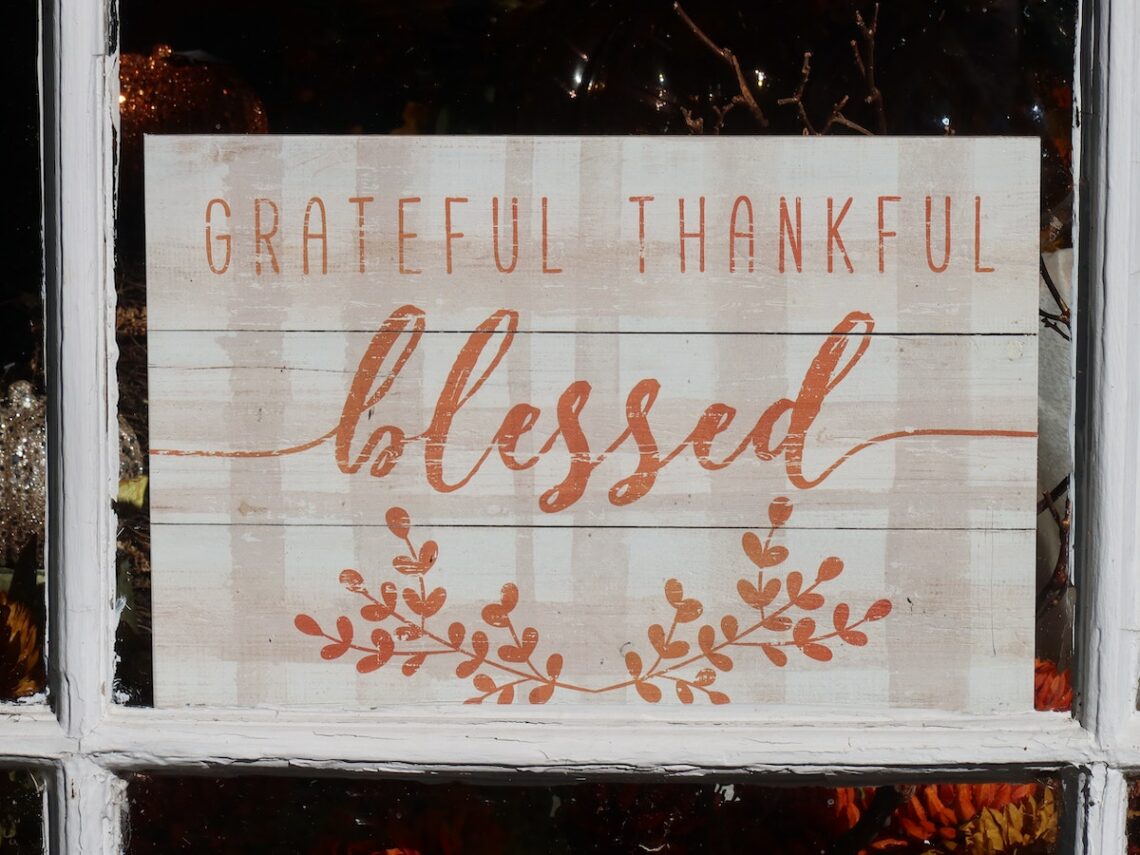 I had another post ready to go this week, but decided instead, to share a message I was asked to teach at a women's event this past Saturday. I realized it was timely for this week of Thanksgiving. I even taught this last minute to my Sunday women's life group at church the following morning. I'm so grateful I got to share God's truth alongside my own journey of faith.
As I prepared for this message, I had such a sweet time of reflecting on how faithful God has been to me all my life and how much I have to be thankful for. Teachers always learn more than their students as they prepare to teach. Now I even enjoy the Christmas music, that started so early this year, as I reflect how God's faithfulness led to the birth of a precious baby who came to give me hope and to save me! And the world! So, heads up, this is long, but I pray you have time to read and reflect on how blessed you are, no matter what situation you find your self in this Thanksgiving week. (P.S. You may see some snippets from earlier posts embedded in this one!)
"Praise is more spontaneous when things go right, but it is more precious when things go wrong." This was written on a flip over calendar I had years ago and I've never forgotten it.
Do you know it's possible to rejoice and be thankful regardless of our situation. Many of us are facing situations that we didn't expect or, to be honest, didn't want at all. Yet we know we are supposed to be thankful anyway.
My life is totally different from what I thought it was to be and yet I've learned so much about his faithfulness in every hard experience of life.
James 1:2-4 tells us to "Consider it a great joy, my brothers, whenever you experience various trials, knowing that the testing of your faith produces endurance. But endurance must do its complete work, so that you may be mature and complete, lacking nothing." I have a love hate relationship with this passage and yet I've come to believe it fully.
God's faithfulness means everything that He has promised will come to pass. His faithfulness guarantees this fact. He does not lie. What He has said in the Bible about Himself is true. He will honor His promise that our sins will be forgiven and that we will live forever with Him. He will never leave us, no matter what.
And aren't we grateful that His faithfulness is not dependent on ours! In 2 Timothy 2:13, Paul tells Timothy, "If we are faithless, he remains faithful— for he cannot deny himself." He is always faithful regardless of what we do!
But at times we may not feel like His plan is best! We don't see how the current situation is showing His faithfulness. We must learn to stand on Truth no matter how we feel or how the situation looks!
So how do we live with unanswered prayers regarding our difficulties? The answer is hope. Hope for the current situation. Hope for eternal blessings. Hope for the hopeless in hopeless situations. Trusting God's faithfulness so we can live in faith.
Here are 5 things we can do to rejoice and be thankful in hard times:
1. Get off the fence of faith.
Choose to be all in or all out. We cannot live with one foot in the world and just get by on our faith walk.
In Luke 14:26-27 Jesus tells his followers, "If anyone comes to me and does not hate his own father and mother, wife and children, brothers and sisters — yes, and even his own life — he cannot be my disciple. Whoever does not bear his own cross and come after me cannot be my disciple." Hate in this instance, means to "love less". We cannot love anyone more than Jesus. Carrying His cross means laying our life down to live for Him.
An experience in my early twenties tested my faith…did I really believe what I'd always taken for granted about Jesus, the cross and eternal life? I was on an infertility journey and was seeking God in a deeper way. In my heart, He told me to get off the fence. Either fully commit or walk away from my shallow faith. We know that once we give our hearts to Christ, nothing changes our destination. But I needed to begin to grow as a disciple by reading His Word daily, obeying it, and spending time getting to know Him.
The deeper we go in life with Him, the more fruitful and powerful our lives become…for His glory. It was time for me to stop saying I was a Christian and begin truly living as one.
I learned to get off the fence of faith and seek my purpose through Him.
2. Surrender
The white flag is up! Time to let go. Time to give up whatever we've been holding back and allow Jesus to use it for His glory. I may not have planned my life this way, but He has! He has been faithful in every situation! Even those things I hated at the time.
We must learn to surrender to His faithfulness. What is that for you? I can think of many things over the years I've held onto thinking I can control them better if I do. How about you?
Are you holding on to any of these, thinking you can handle it better than the Lord?:
job
children or wanting children
spouse
singleness
relationship
finances
fear
failure
unforgiveness
loss
time
selfish will
life purpose
I wonder if we hold on to these because we think we can do a better job than the "King of the World"! Really? Is that what I'm indicating by holding on to what is rightfully His?
May I encourage you today to wave the white flag of surrender and give it ALL to Him? He's big enough to handle your most difficult situation or deepest pain, as well as your greatest hopes.
Why can we surrender it ALL to Him? Because He is totally faithful! That is something to be grateful for.
3. Do Battle
We have an adversary and His name is Satan. He hates for us to surrender and trust Christ. And He sure doesn't want us to be grateful in hard times. He not only twists the truth and wants to cause us to doubt God's love, forgiveness and faithfulness. He does whatever he can to keep us in the valley of despair and hopelessness where we cannot be thankful.
Remember 1 John 4:4 says, "…the one who is in you is greater than the one who is in the world" and Romans 8:31 says "if God is for us, who can be against us?" We have the supernatural power to be thankful for this in the midst of pain.
4. Hope Anyway
This year I've been saddened by two friends with cancer and another who lost her husband. I was praying for each when I read a blog post by Carey Nieuwhof whom I read quite often. It was titledWhy Christians Should Stop Saying Prayer Works. The title alone caught my attention, especially since two of these three friends received some positive answers that correlated with the prayers we were praying for them.
As I read the post, I was reminded that we are often guilty of saying, "God answered that prayer!" when we get the answer we prayed for. But what do we say when He doesn't answer our way?
One friend needed her blood work to look much better to be released from CCU where this very young friend spent over a week following her second round of chemo. Another friend has cancer and was on chemo that was tearing her up…this after 12-14 years of cancer treatments and near death numerous times. She asked us to pray for her son, (who years ago had a cancer experience himself) who might have lymphoma, the same diagnosis that began her cancer journey years ago. The third friend I mentioned above has, for several years, been care-taking her elderly mother, other relatives and her husband who has suffered numerous debilitating health issues. He had then broken his hip and we were praying for quick healing.
So this is how God answered: The first friend got to go home from the hospital as her counts rose quickly overnight after days of praying without a change. So easy to praise God for that answer we so desired from Him. The second friend sent a text that her son, who is married and has young children, did not have lymphoma! Again, a huge praise to God! For the third friend, the answer was a healing, but not exactly what we were praying for. After hip surgery, although this sweet friends husband came through it doing well, he was healed completely and eternally. This was a bit harder to be thankful for.
So what do we say to that? God didn't answer? We aren't blessed? Of course not. We know in our hearts God always hears the prayers of His followers, but sometimes our minds begin to question that, even as Job wondered where God was when he lost almost all he had in life.
We have to understand that prayer always works because prayer is not about the answer near as much as it's about the relationship with Christ through prayer. And, we aren't only blessed when we get the answer we want. We are blessed because He cares and He responds to all our prayers.
Here's the thing I've seen through these friends. All three of these friends walked in hope, joy, gratitude, and faith as they struggled. All pointed to Christ in the midst of it. All showed me what faith and hope look like practically and influenced my life. (Read Romans 8:18-25 if you need more hope!)
5. Remember
If you are in a place where it's hard to be thankful, Remember what God has done in your life
I have a pretty long history with Him. I've known Him since I was a pre-teen, but didn't really know how to GROW in Him as a disciple until I was in my early 20's and facing my first major life challenge…infertility. It was then I learned to stop seeking my purpose and to seek his purpose for my life.
One of my new favorite songs is The Goodness of God. "All my life you have been able, all my life you have been so so good. With every breath that I am able, I will sing of the goodness of God." For that we can be thankful!
Psalm 91:1-2 says, "Whoever dwells in the shelter of the Most High will rest in the shadow of the Almighty. I will say of the LORD, 'He is my refuge and my fortress, my God, in whom I trust.'"
And we have to consider 1 Thessalonians 5:16-18 which tells us, "Rejoice always, pray constantly, Give thanks in everything, for this is God's will for you in Christ Jesus."
It is possible to praise and thank God even through tears. You may need time to heal, grieve, cry out…but don't allow Satan to keep you there.

3 Results from doing the 5 things mentioned above :
1. We learn dependence. Another flip over calendar said this, "It is not how troubled the sea is that determines the course of your life, it is who the Pilot is. The Lord will either calm your storm or allow it to rage while He calms you." He is totally dependable. For that we can rejoice and be thankful
2. We experience maturity. I wouldn't know Him as I do without difficulties, He has proven Himself over and over to be faithful.
3. We share our story. 2 Corinthians 1:3-5 says,"Blessed be the God and Father of our Lord Jesus Christ, the Father of mercies and the God of all comfort. He comforts us in all our affliction, so that we may be able to comfort those who are in any kind of affliction, through the comfort we ourselves receive from God." We are able to help others in difficulty when we share our own stories.
Evidence shows that those with a thankful heart are happier than these who aren't thankful.
When we had our first snow before Thanksgiving this year, our daughter, who knows my husband I (and our Yorkie #MoDawg) are hot weather, beach people who shiver through the entire winter, tagged us on this quote: "If you choose not to find joy in the snow, you will have less joy but still the same amount of snow." And that is SO true!
This Thanksgiving season, let's ask Christ to make us thankful in the situation we've yet to find joy in. Have a blessed thankful celebration.