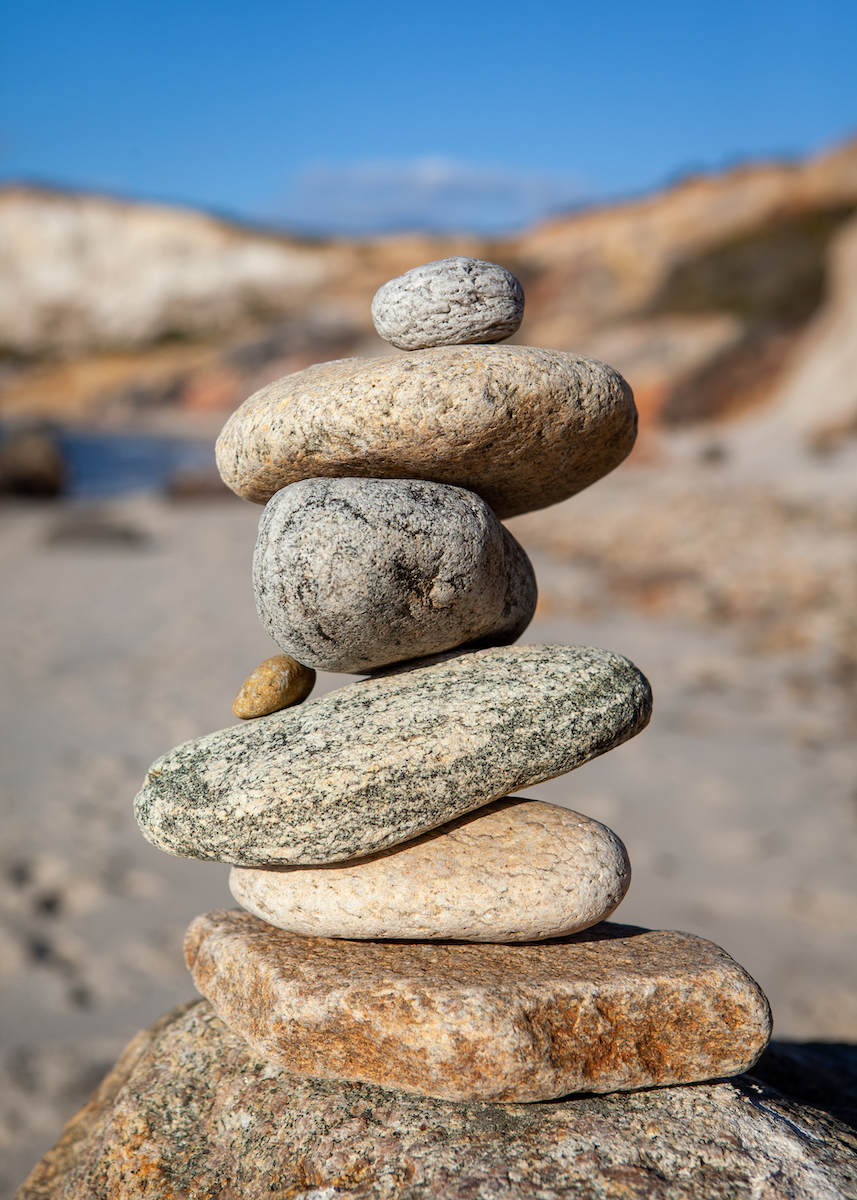 I wrote last week about stepping into the water and told you I wanted to follow up this week talking about memorial stones. So read that post first if you didn't see it last week.
In Joshua 4, after the Israelites had stepped into the water, saw the waters part, and walked across on dry land, God gave Joshua a directive. He said to choose a person from each of the 12 tribes to go back into the dry river bed and choose 12 stones (boulders, actually, that had to be lifted onto their shoulders) to build a memorial.
What were these stones for? Why did God tell them to do this? We see the answer in Joshua 4:6-7, "so that this will be a sign among you. In the future, when your children ask you, 'What do these stones mean to you?' you should tell them, 'The water of the Jordan was cut off in front of the ark of the LORD's covenant. When it crossed the Jordan, the Jordan's water was cut off.' Therefore these stones will always be a memorial for the Israelites."
This was their "stepping into the water" story. They saw God answer AS they put their feet in the water. They personally experienced God's provision and protection, but it wasn't just for those who were a part of this scene. It was also a story to be told for future generations. When they saw those memorial stones they would ask what this was and the story of God's faithfulness at the Jordan would be told again and again. It would be passed down generation to generation. Even as we read the story today, we are reminded of God's faithfulness…not only to the Israelites but also to us.
Stop and think: if you were asked today to build a memorial of God's faithfulness and provision, what would each of the stones represent? Where has God met you in the middle of the river, waters raging on either side, and provided in the midst of it all?
My stone tower would be high. Much higher than this stone memorial in the photo on the right. This was given by a local group of women's leaders in the Northwest to each of us on our LifeWay team serving them that week. Mine would be very tall because I've lived quite a few years (although I'm not old! LOL) and I've watched God work over and over through what appeared impossible waters to cross. Here are a few:
In the middle of a ministry decision to follow God's directive to serve in a denominational role I was not "qualified" to lead
In the middle of parents dying of cancer, heart failure, dementia,  and kidney failure
In the middle of broken relationships
In the middle of loved ones struggling with addictions
In the middle of infertility and wondering what to do now with my life purpose
In the middle of a ministry/work crisis that seemed to go on forever
I mention "in the middle" for a reason. That is where God showed up for the Israelites and that's where He showed up for me. EVERY.SINGLE.TIME!
Did you make a list of what your stones would represent? If so, what have you done with those stones? In other words, who knows about your stories represented in those stones? If you don't tell those coming behind you what they mean, it cannot affect anyone but you. But when you share how God showed up and showed off, you get to give Him the glory again and again in the telling.
What if we'd not had the stories in Scripture to show us God's power and love? In the Bible, there are so many different types of memorials proclaiming God's provision:
Noah built an altar to God after surviving the flood. (Genesis 8)
Abraham built an altar to sacrifice Isaac, where God provided a ram instead. The place was called "The Lord Will Provide. (Genesis 22)
Jacob erected a marker in the placed he wrestled with God. (Genesis 35)
The Passover was to be observed annually as a memorial to God's provision and escape from Egypt. (Exodus 12)
God provided a visible memorial of His provision through the cloud and fire (Exodus 13)
2 quarts of manna was to be preserved throughout the generations as a reminder of God's provision in the wilderness. (Exodus 16)
This is only a few, watch for others as you read scripture and start your own list of those found it the Bible and those you experience in your own journey.
Life is in our stoney journey…the life of Christ in us and in our circumstances. So next time you think you are drowning in the middle of a raging river: (1) Stop and ask God to provide. (2) Ask Him how He can be glorified through a memorial about that circumstance. (3) Ask Him who else needs to know what this memorial means to you so they can see how God can work on their own circumstances and receive the glory.
Banner Photo by Matt Bango on StockSnap
Inset Photo by Freestocks.org on StockSnap